Current Phase Status:
PHASE 2
(effective as of August 1, 2021 until further notice)
Links listed within the document below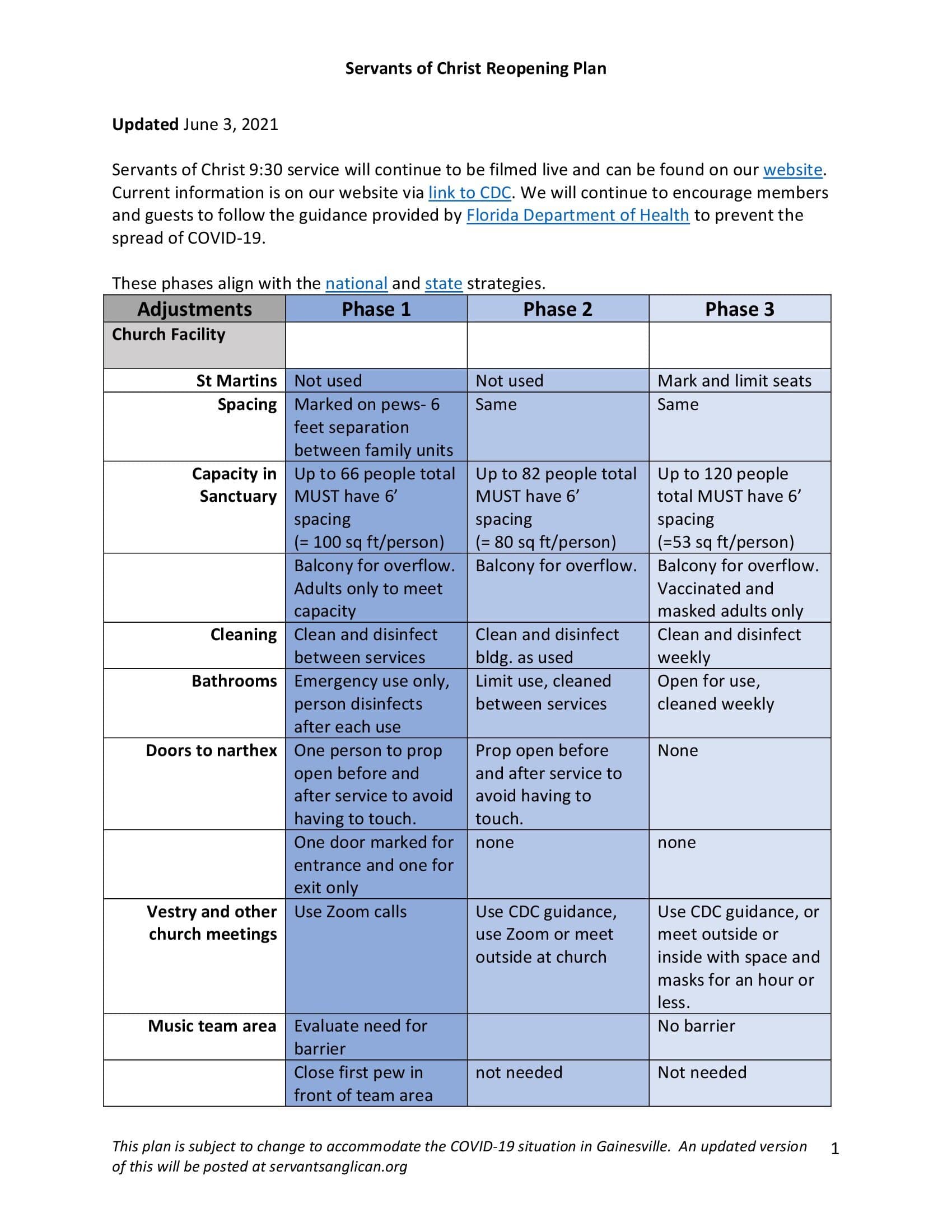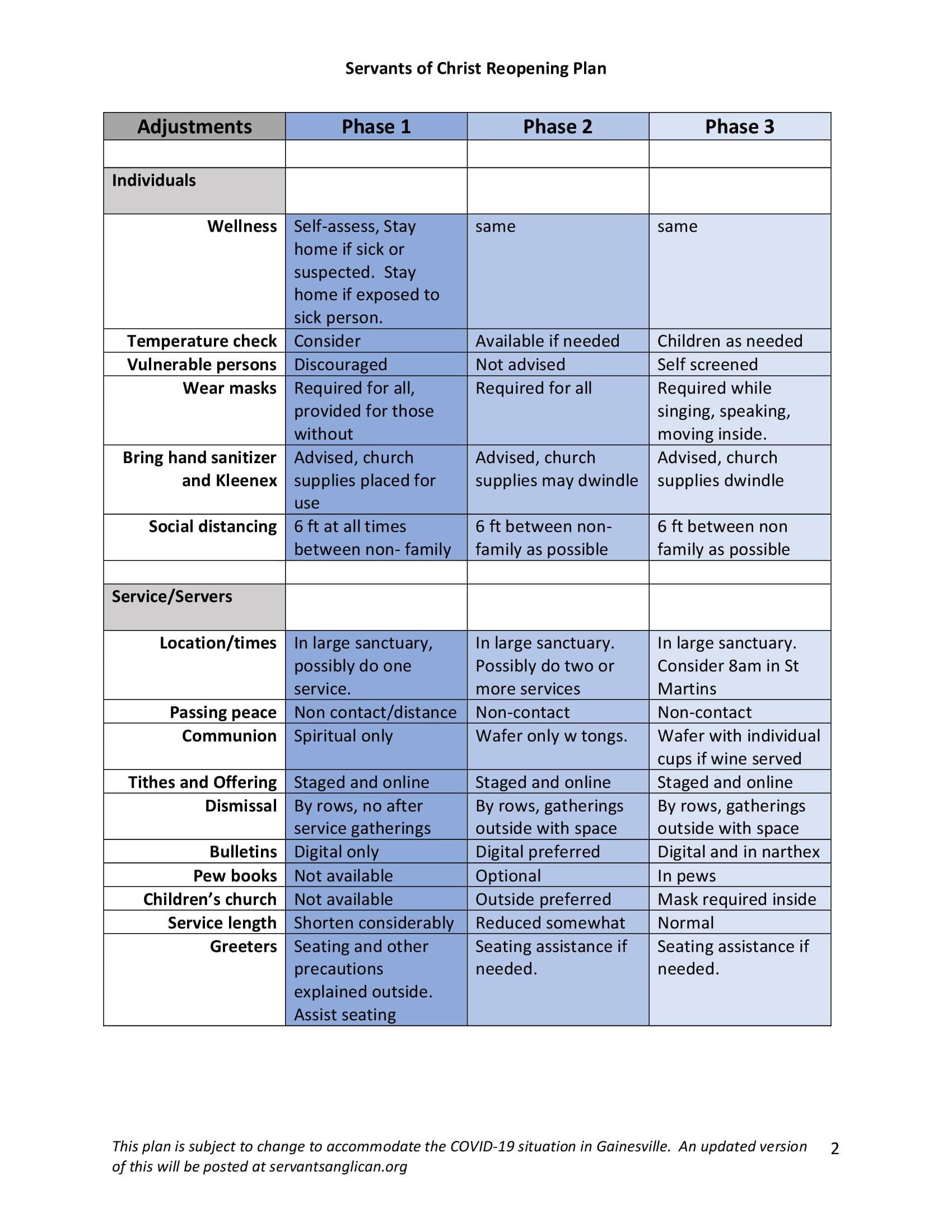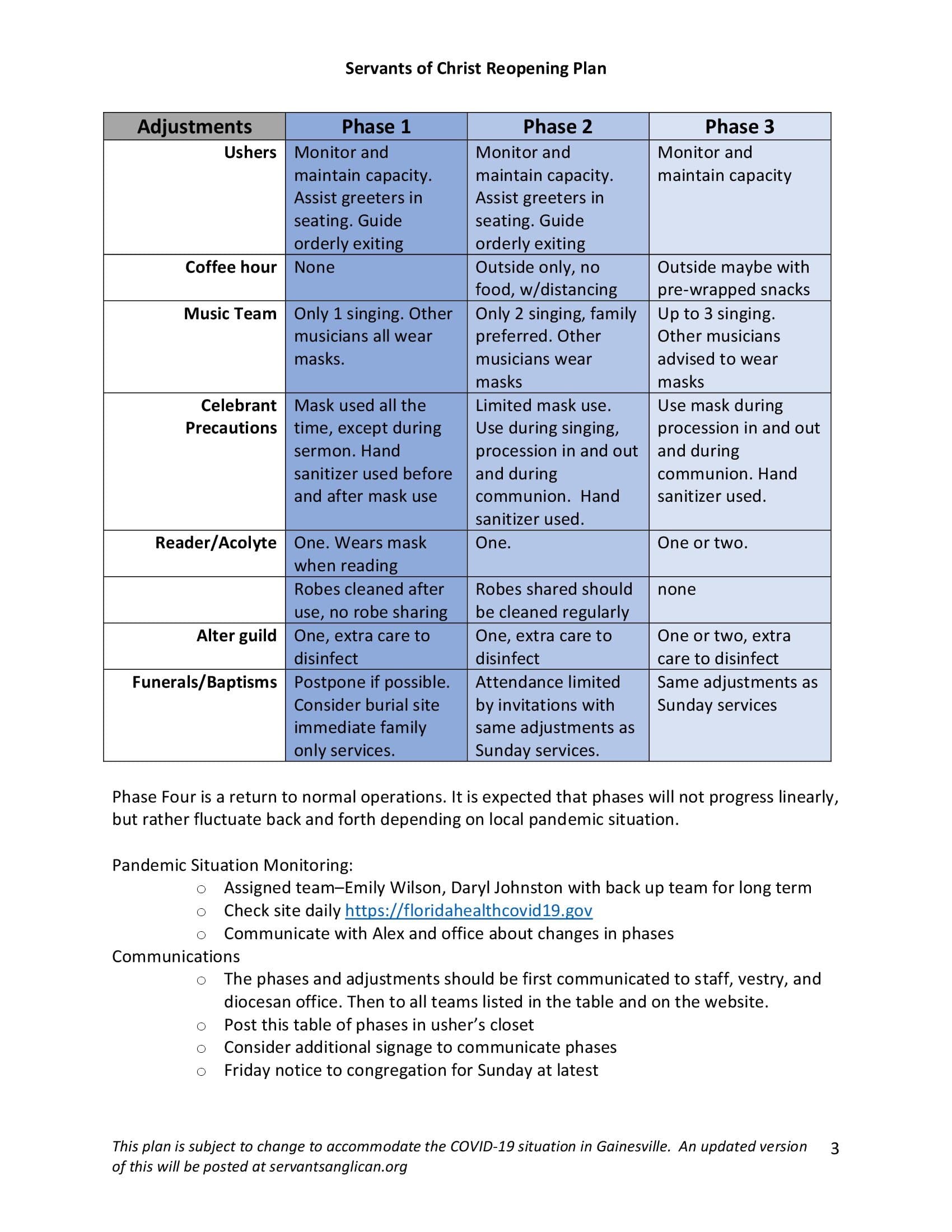 FAQs
We have created the list below based on questions received from congregants. Please consult our Reopening Plan for the fullest picture of what each phase will include. If after reading the Reopening Plan and the FAQs, you still have a question, please email communications@servantsanglican.org.
Are masks required?
Yes. They are required for everyone in Phase 1 and 2. In Phase 3, masks are required while moving, singing, and speaking, but may be removed while seated.
Will children be able to attend church in Phase 1?
Yes. We will not have in-person Children's Church. Children and youth will need to observe social distance and sit only with their family/guardian.
Will we sing together?
Yes, singing is permissible.
Is there a timeline for entering Phase 1, Phase 2, and Phase 3?
Not at this time. We will abide by all guidelines given by the state, but we may move slower toward normalcy than the state does. We expect that we will stay in a phase for at least a month before moving forward, but we also recognize and accept that we may have to take steps backward as the COVID-19 situation unfolds locally. Our emergency response team is evaluating which phase is best on a Sunday-by-Sunday basis. You can visit our website to find out which phase we are in on a given week.
Will there be funerals or baptisms during any of the phases?
We will postpone, if possible, all funerals and baptisms in Phase 1. If there is a need to gather, it will be for immediate family only. In Phases 2 and 3 we will adjust the attendance and abide by the same guidelines we'll use for Sunday services.
Will windows or doors be open during the service?
The narthex doors will remain open for the length of the service, but the side doors will remain closed. We currently have no windows to open in the sanctuary.
Will we use the balcony for additional seating?
Not in Phase 1 or 2. In Phase 3, individuals who have been vaccinated may sit in the balcony and must wear masks at all times.
Do the capacity numbers listed in the reopening plan include priests and servers?
Yes. In each phase the capacity listed includes any person that would be in the sanctuary.
How will we decide who gets to attend services each week when capacity is so limited?
In Phases 1 and 2, we are asking that anyone who wishes to attend our services RSVP each Sunday here. In Phase 3, no RSVP is required as it is unlikely we will exceed capacity.
Will Servants' reopening phases align with the state's phases of reopening?
We will abide by all phase requirements given to us and the general population for reopening, though we of course reserve the right to move back a phase if the local situation seems to require it. Our emergency management team will monitor all city, county, state and federal guidelines and make changes for our parish accordingly.
How will we trace outbreaks within our community?
We will have limited capacity to trace where a given case of COVID-19 was contracted.
Will the church be open for use other than for Sunday services during any of the phases?
Vestry and other church meetings, including Soaking Prayer, will be held via Zoom during Phase 1. During Phase 2, Zoom will continue to be an option with the added option of meeting outdoors with social distancing. Phase 3, we will have the option of meeting outside with masks being optional, or inside with masks required only while moving and speaking.
Will I be able to use the restroom at church?
Yes, but with extra precautions and cleaning. During Phase 1, we will provide a cleaning solution that anyone who uses the bathroom will need to use on touched surfaces prior to exiting. A bathroom user will need to clean door handles, flush handles, faucet handles, locking mechanisms, and all other touched surfaces. We urge you to use the restroom at home. In Phase 2, someone will clean after each service; in Phase 3, we will just have a weekly professional cleaning.
Will people be allowed to move around the sanctuary at any point during the service?
Not typically. Particularly for Phase 1, the celebrant, acolyte, worship team members, and projectionist will remain in their serving zone throughout the entire service. Congregants will be asked not to move around the room during the Peace. These precautions will continue, though some exceptions may be allowed, for Phase 2. During Phase 3, we will have a lector and a reader for Prayers of the People who will be allowed to move to their places of service. The Worship Arts Team will be allowed to move to the altar area for Communion.